Sketching
Before anything else, preparation is the key to success.
It all starts here.
Imagination and creativity changes everything. Our team of extremely talented artists sketch and give a shape to their ideas. An inspiration shared by our esteemed customers also comes to reality by our innovative artists.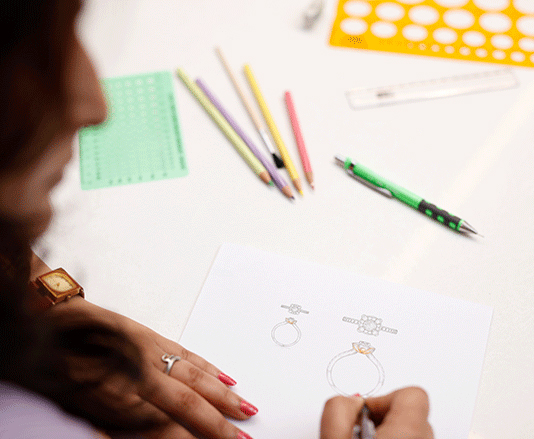 Computer Aided
Designing (CAD)
To create a road map, it shows the final destination and usually the best way to get there.
Second stage of planning, a team of skilled artists.
The use of computer software programs to create 2D or 3D models. CAD provides the ability to view the piece of jewelry from all angles, including the inside, from the top, or the sides.
Computer Aided
Manufacturing (CAM)
Success is the residue of planning
Third stage of planning, an additional stage of assurance.
Computer Aided Manufacturing (CAM) is the use of software and computer-controlled machinery to automate a manufacturing process. It is a process that usually works in tandem with CAD (computer-aided design) to allow machines to create resin models of the jewelry directly from computer designs and software.
A cam piece is as good as a live piece but made up of resin. A stage where you can have a look and feel of the final product.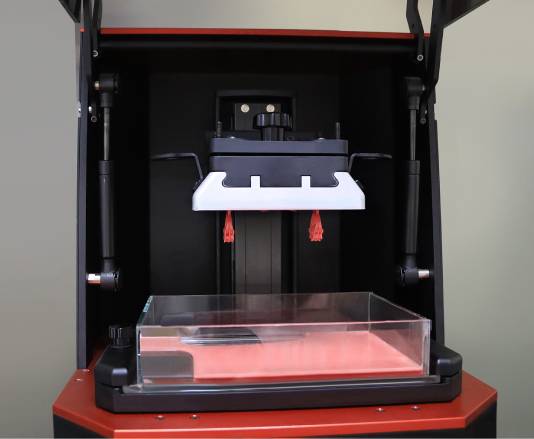 Model Making
Improve quality, you automatically improve productivity.
Fourth stage.
The resin piece from the CAM is further transformed into a 925 silver master model using the casting process. This master model is then used to manufacture numerous similar pieces of jewelry.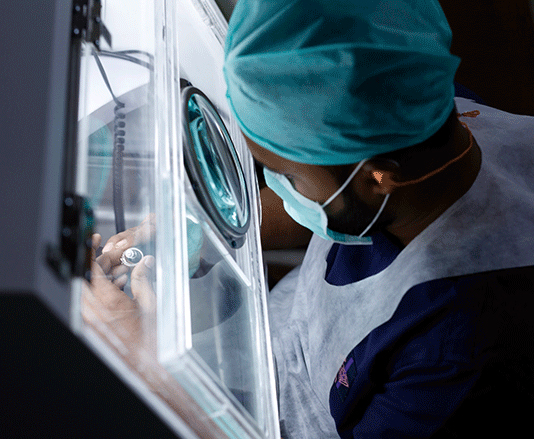 Mould Making
To be successful you have to have quantity of quality.
We have 3 types of moulds: natural rubber, silicone and metal. The method used for mould making is called Vulcanizing.Mould Making helps in creating multiple pieces of the same jewelry design. These designs are sheltered in the mould form in our mould bank.Storing them makes it possible for us to create replications anytime in the future.
The CAM resin piece can be directly used to make a silicone mould, however we require a silver master to make a rubber and metal mould.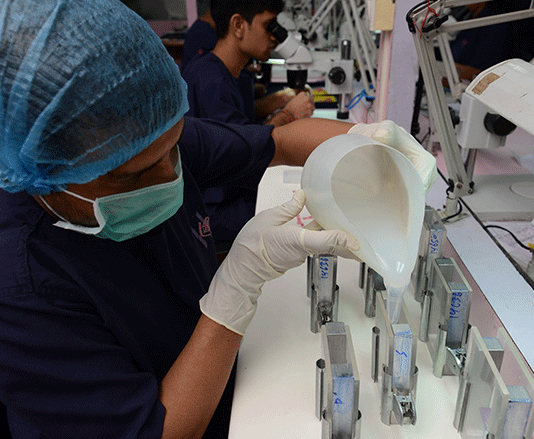 Wax Injection
What's measured improves.
A special wax injection machine injects molten wax with pressure into the cavity of the moulds, which on cooling gives out a wax piece with a sprue.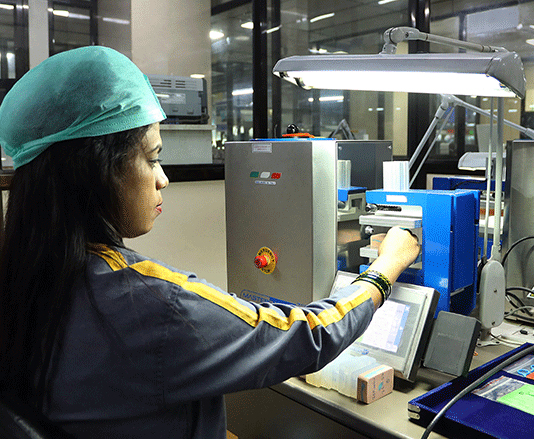 Tree Making
Surround yourself with things that lift you higher.
Multiple wax pieces are then shouldered on a wax stem at a certain angle forming a wax tree, this process is called Tree Making.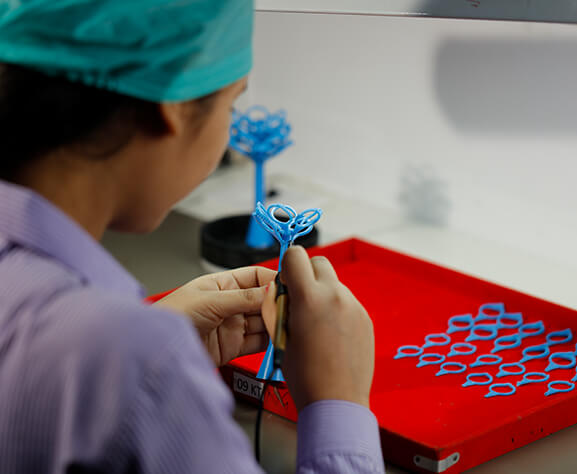 Casting
Be like water. My friend.
The wax tree is then carefully placed in a steel vessel which is filled with white plaster slurry that settles around the tree. This setup is put in industrial grade ovens for 15-16 hours at a temperature of 1600 degrees, this burns out the wax leaving behind the hollow impression of the tree. The alignment of the models is arranged to allow the molten metal to flow through the tree. The molten metal is then poured in which eventually forms a metal tree.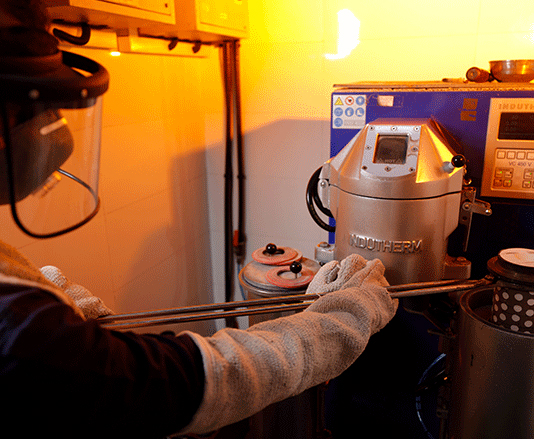 Grinding
Shaping the Unshapen
Raw pieces are then grinded by the polisher using different grinding tools and motorized machinery to give a uniform surface to the jewelry piece removing the casting layer.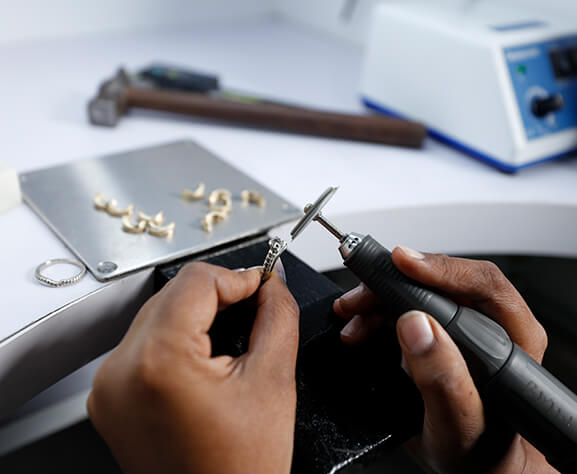 Filing
Time. For. Change.
Filing metal is an essential technique in jewelry making. It is used in jewelry making to remove excess metal, even out surfaces, smooth or to shape, form and texture pieces.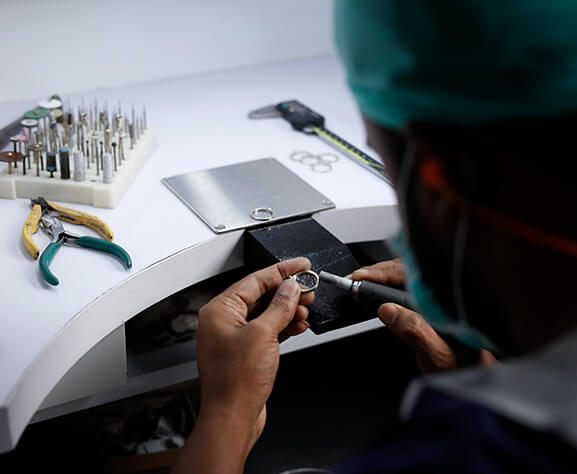 Pre-Polishing
Becoming a better you starts from within.
Polishing offers a neat finish and enhances the value of a piece. Jewelry pieces with diamonds require pre-polishing before the diamond is set. This is because once the diamonds are set the area below the diamond portion cannot be polished and may affect the shine of the diamond.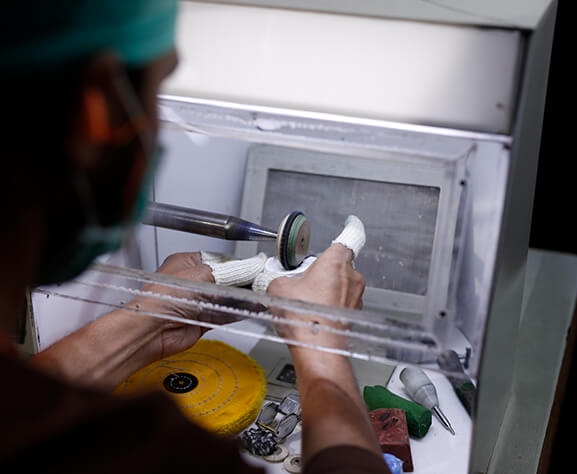 Stone Setting
It may be in bits and pieces but I gave you the best of me.
A traditional way of setting the diamonds, it requires a high level of craftsmanship as every single stone on the jewelry piece is set by a craftsman ensuring the metal grips the diamond flawlessly.
There are numerous ways for setting a diamond, you can have prongs holding them or have them lined between two channels of metal, hand setting is the most secure way to set them.
Polishing
Shine wherever you go.
Artisans skilled at jewelry polishing use a wide array of machines and hand held tools to remove uneven or rustic surfaces from gold, platinum or silver. Using wheels and bits charged with abrasive compounds the polishers shape and contour surfaces. The next stages include lighter polishing mediums that reveal a brilliant shine. Through years of experience a Jewelry develops jewelry polishing techniques that seem to magically unlock the beauty of precious metal.
Polishing gives a neat finish and shine to the jewelry.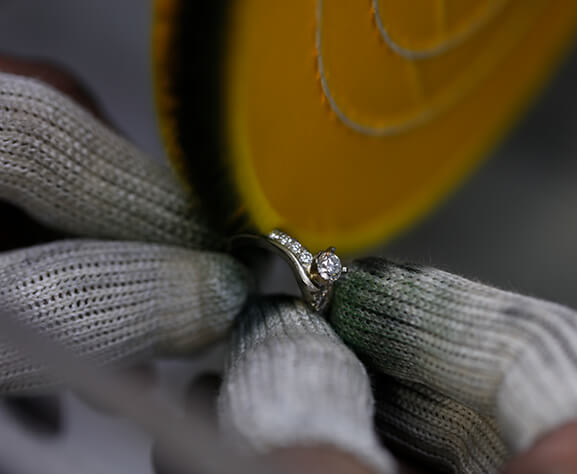 Rhodium / Plating
If it's sparkly, yes. I want it.
Rhodium aka "RH" is the 45th element on the periodic table.
A precious metal that belongs to the platinum family.
Benefits of Rhodium plating:
1) A thin layer to a piece of jewelry avoids tarnishing.
2) It increases the jewelry's resilience from scratches and adds an elegant, reflective finish.
3) It provides an additional protection to your jewelry and makes it last longer.
4) It can reduce the chance of an allergic reaction.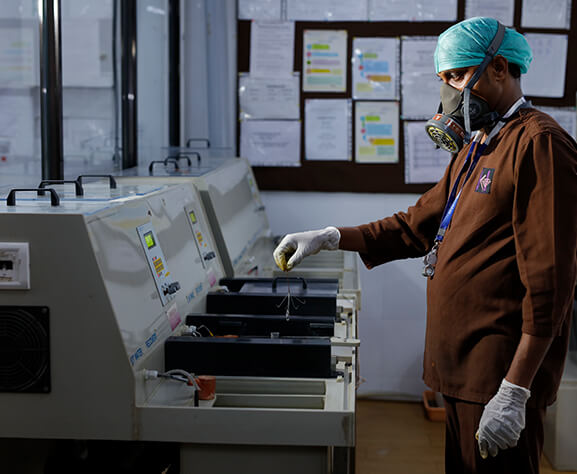 Third party QA/
Final QA
Quality isn't expensive, it is priceless.
Quality Assurance is a vitally important procedure that commences from the beginning of our manufacturing process and is precisely followed till the goods are dispatched from the facility. It helps us keep the cost reasonable, maintain our exclusive relationship and assure customers complete satisfaction.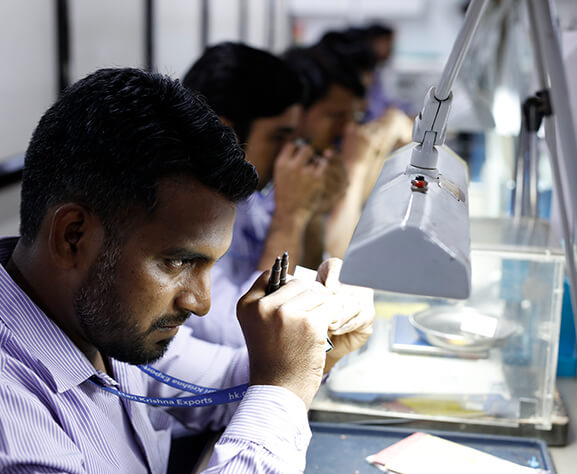 Lab-grown Screening
Special machines tests how the rock reacts to UV rays. By measuring the fluorescence of the gemstone, the lab can determine if it is a natural diamond, lab-created, or any other type of rock, the entire screening process is quick & reliable.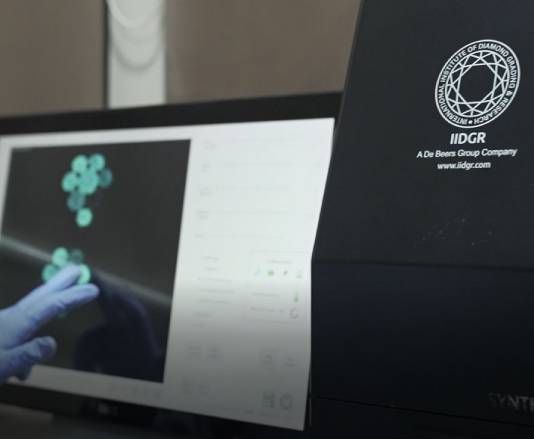 Certification
We provide lab certifications for diamonds from GIA, GSI, IGI and HRD. Certified diamonds have been graded by a gem laboratory based on their "4 C" attributes of Cut, Color, Clarity and Carat. It is to confirm formally as true, accurate, or genuine and that it meets a 100% natural mark. It also guarantees the quality of the stone and protects your investment.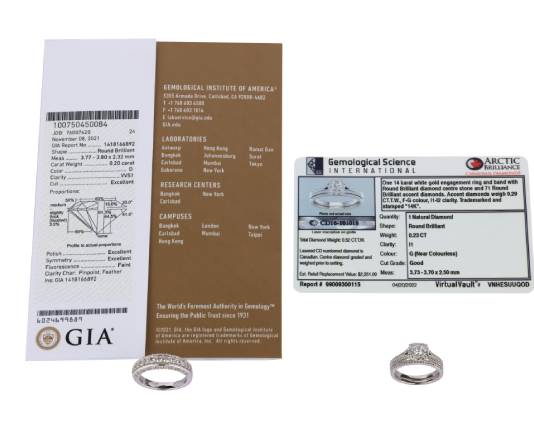 Shipment/ Dispatch
The soul of all businesses.
Our dispatching department handles the packing and tagging of every jewelry pieces, we also custom pack as per our customer's requirement and assure no damage or deformation happens during the transit.
Maintaining the count of the jewelry pieces and placing them carefully in a sealed hard shell boxes to be received directly by our customers.
We also offer drop-ship facilities.