Magnificence
Magnify your love
Innovative diamond jewelry with extravagant pieces that truly highlight the size and brilliance of the stone. Magnificence allows the diamond to be the centre of attention; at all times.
H. K. Designs' brand Magnificence is the result of years of research and development. Magnificence is a breakthrough in the diamond jewelry category. The unique setting and design allows small stones to appear significantly larger and more radiant. For example, a quarter carat stone has the appearance and the beauty of a half carat diamond, making it look twice its original size.
Diamonds are sealed into the center of an elegant glass lens, which magnifies the gem's size and beauty. This innovative lens captures and amplifies light to create a glowing, more extravagant piece of jewelry from an otherwise modest stone. Show you care and "Magnify Your Love" with Magnificence.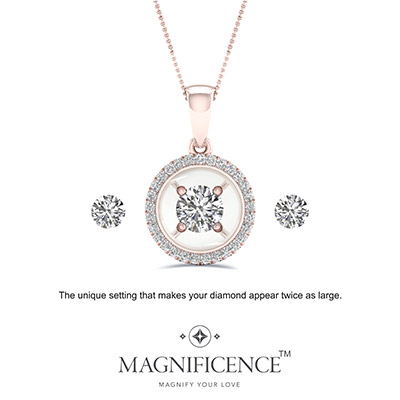 My Diamond Story™
The ring with a brilliant heritage
A remarkable collection of diamond rings that let you to set your own love story in stone. My Diamond Story™ is unique, crafted and can be traced back to the origin of the rough crystal.
My Diamond Story™ is a unique bridal engagement collection, celebrating your choice of an engagement ring with one-of-a-kind characteristics.
Each step in the diamond-finishing and jewelry-making process is captured and documented, so you will know why there is no other ring like yours in the world.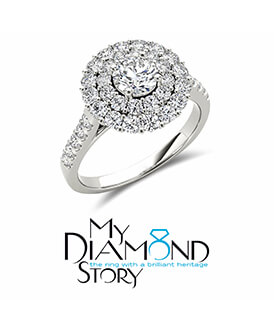 My Diamond Story™ begins with the earth's natural formation of a rough diamond. It continues through a jewelry-making process that combines skilled artistry with modern technology. The Story helps you learn about each step in this process, including:
The Rough Diamond
The Diamond Mapping
The Diamond Cutting and Polishing
The Diamond Grading
The Diamond Ring Design
The Diamond Hand Setting
When each bride wears her engagement ring for the first time, My Diamond Story™ becomes her own – to cherish, tell and retell many times.
Seamless
Seamless diamonds for seamless moments
Diamonds that seamlessly float and shine through without any disruptions. Seamless diamond jewelry is set using a patented technology that makes the metal hide for a wonderful look.
H. K. Designs researched the technique of creating a seamless setting, a technique of setting a diamond in this mounting and developed special machines and tools to create the mounting. The innovation developed a product element named as "Seamless Bezel." In this invention, the bezel's wall thickness is the thinnest produced in the industry thus far. The girdle is inserted tightly and closely in the SB wall. In a top view, the ratio of the visible portion of a diamond to the body of the mounting is between 85-98% (as opposed to 60-75% in conventional/traditional bezel setting). Also, since the Seamless Bezel wall is very thin, it is merely visible to the naked eye from a reading distance.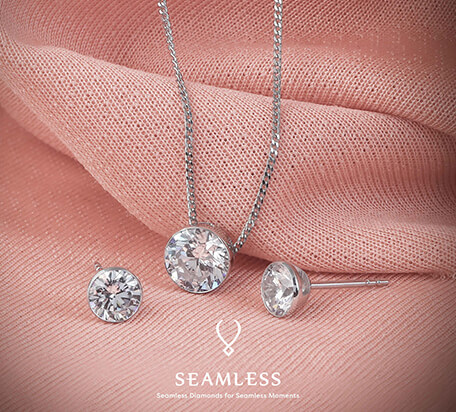 Each Seamless Bezel is made individually on a specially developed CNC Machine and cut from a metal rod on the machine.
Each diamond is set in a Seamless Tube Bezel using a specifically developed machine that sets it with exacting proportions, thereby securing the diamond and achieving an almost invisible set look.
Endless Diamond
A beautiful arrangement of diamonds that shine through without any disruptions. Endless Diamond jewelry has hand-set stones that are added without prongs to give a great appearance.
Endless Diamond is a precise arrangement of round invisibly hand-set diamonds brought together in a patented diamond setting with no prongs interrupting the flow of diamonds to achieve a seamless solitaire appearance.
Endless Diamond is a collection of rings, pendants and earrings that uses a patented Touch Setting technology to create a large diamond look. Each Endless Diamond brings together style and substance that celebrates your individuality.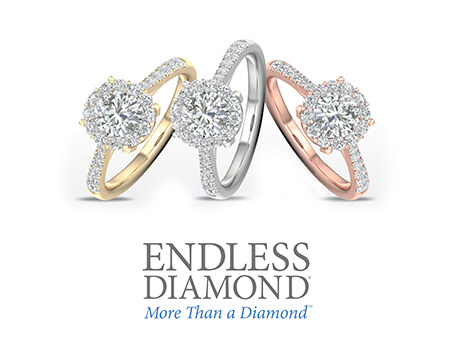 Trouvaille
Bridal
A brand that celebrates beauty, adventure and surprises that come enveloped within a diamond. Trouvaille bridal jewelry consists of De Beers Group Industry Services graded diamond.
In a world of choices, to meet and unite with your beloved is no less than a remarkable stroke of luck. It is a fortunate occurrence that could possibly not have been predicted. Trouvaille celebrates this momentous affair… it celebrates the moment that sparked love between two people... it also celebrates your commitment to unite, and your desire to grow old together. Trouvaille truly echoes the beginning of love's journey that leads to eternity. Each Trouvaille Diamond is graded by De Beers Group Industry Services.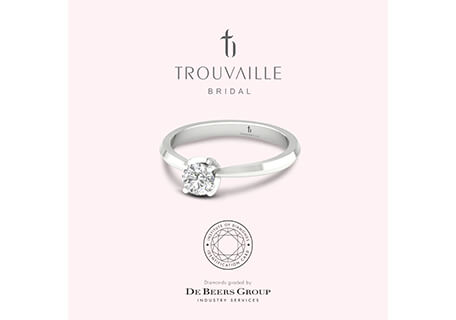 Arctic Fire
Diamonds of Canadian origin
All the centre diamonds are inscribed with a Canadian certificate that marks their authenticity. Arctic Fire is a collection of Canadian Diamonds that are found in the North side of Canada.
The Arctic Fire collection features certified Canadian Diamonds found in the Northern Canadian territory. All center diamonds are certified Canadian and laser inscribed, clarifying their origin. Each Arctic Fire Canadian Diamond includes a diamond quality report and a Canadian Certificate of Authenticity.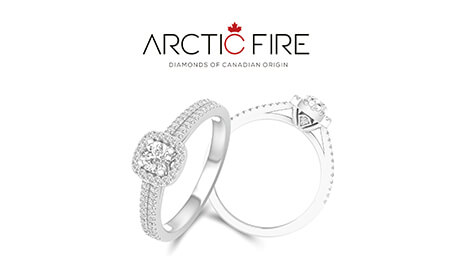 Line of Love
Straight to the heart
Minimal designs that are beautifully crafted for an elegant look and feel. Line of Love helps strengthen the connections of love, care and affections with those around us.
The Line of Love collection is inspired by love, and connects us with lines right through the heart. The stronger we love, the closer these lines draw us together.
Give the Line of Love to strengthen your bond of marriage, your connection of love for a child, parent, sibling or friend.

Moments of Love
Remember life's sparkling moments
Cheerful and bright designs that are crafted for a youthful and modern look. Moments of Love is a collection of sparkling diamonds that can be added over time to mark every special moment.
The Moments of Love collection makes for the perfect personalized gift with the adding of Moments resembling your special occasions. In this collection each element that you add is called a Moment. The Moments of Love are beautiful moments that come together and create a story that you will never forget and is a unique way to create and customize jewelry.
These Moments come together on a beautiful pendant to capture your special memories, and this collection offers vast opportunities for personal expression to capture & celebrate every special moment of your life.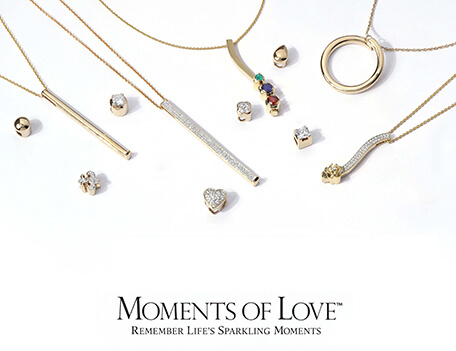 Code Of Origin
Transforming the future
H.K. diamonds represent our deep commitment towards social and environmental responsibility. We aim to create a prosperous and thriving world that is fair, safe, ethical, cleaner and healthier.
All our diamonds are natural, ethically sourced and conflict-free - making a significant contribution in people's lives as well as places via education, healthcare, women empowerment, employment creation, wildlife conservation and carbon neutrality.
Through this we want to ensure that every client who shops from us, feels proud of the contribution that they've made towards making the world a better place to live in.